What color is teal? The color teal is located between blue and green on the color wheel. In fact, teal is what's known as a tertiary color on the color wheel. Teal is equal parts green mixed with equal parts of blue. The meaning of the color teal is balance and tranquility. The word teal comes from the name of the common teal, a duck that has a blue-green colored stripe on its head.
The color teal is also one of the initial group of 16 original HTML/CSS web colors ratified in 1999. The 1990s were when teal peaked in popularity.
| | |
| --- | --- |
| Color Name | teal |
| Hex Code | #008080 |
| RGB | 0, 128, 128 |
Color Teal Facts
The first recorded use of teal was in the early 1900s.
Teal was a favorite color in the 1950s and 60s.
Teal blue is also the name of a Crayola crayon color (color #113) from 1990 to 2003.
Teal's popularity in the '90s can be seen in the sports world. Of the 22 new teams that joined the major professional leagues during this time, six chose teal uniforms. A total of 13 teal teams in the NBA, NFL, MLB, and NHL used the color.
What Colors Go With Teal?
Bright white
Bright white gives teal the spotlight in this color combination. This is a clean minimalist way to use a bold color like teal in in your home decor. Teal and white make a beautiful light and dark contrasting pair.
Coral
Coral and teal color schemes have a fun, young look—perfect for a teen's bedroom or a baby nursery. Coral is a warm pink orange that adds energy to the moody teal.
Cream
What color is teal with cream? Rather than the stark contrast of bright white and teal, cream adds a bit of warmth to teal. This combination can be a little more muted and it can give the room a clean yet traditional look.
Navy
Navy and teal are a analogous color combination perfect for the bathroom. Use tile or paint the bathroom walls with shades from Sherwin-Williams. Check out this article for ideas on bathroom paint colors.
Brown
What color is teal when you pair it with a boring color like brown? Teal is a vibrant rich mix of green and blue that complements to warm brown colors in this room. This is a masculine color combination.
Pink
Pink, especially light pink, coordinates with teal to create a feminine boho look. Pink complements teal because half of teal is made up of green. Green is the complementary color of red and pink is just a lighter shade or red.
yellow
Yellow and teal is a very popular color combination for any room of the house. This example of the this color scheme is used in a bedroom. The dark teal walls make this light buttery yellow pop. This is a calming color palette because the colors are next to each other on the color wheel. To see more about colors that go with yellow check out my blog post.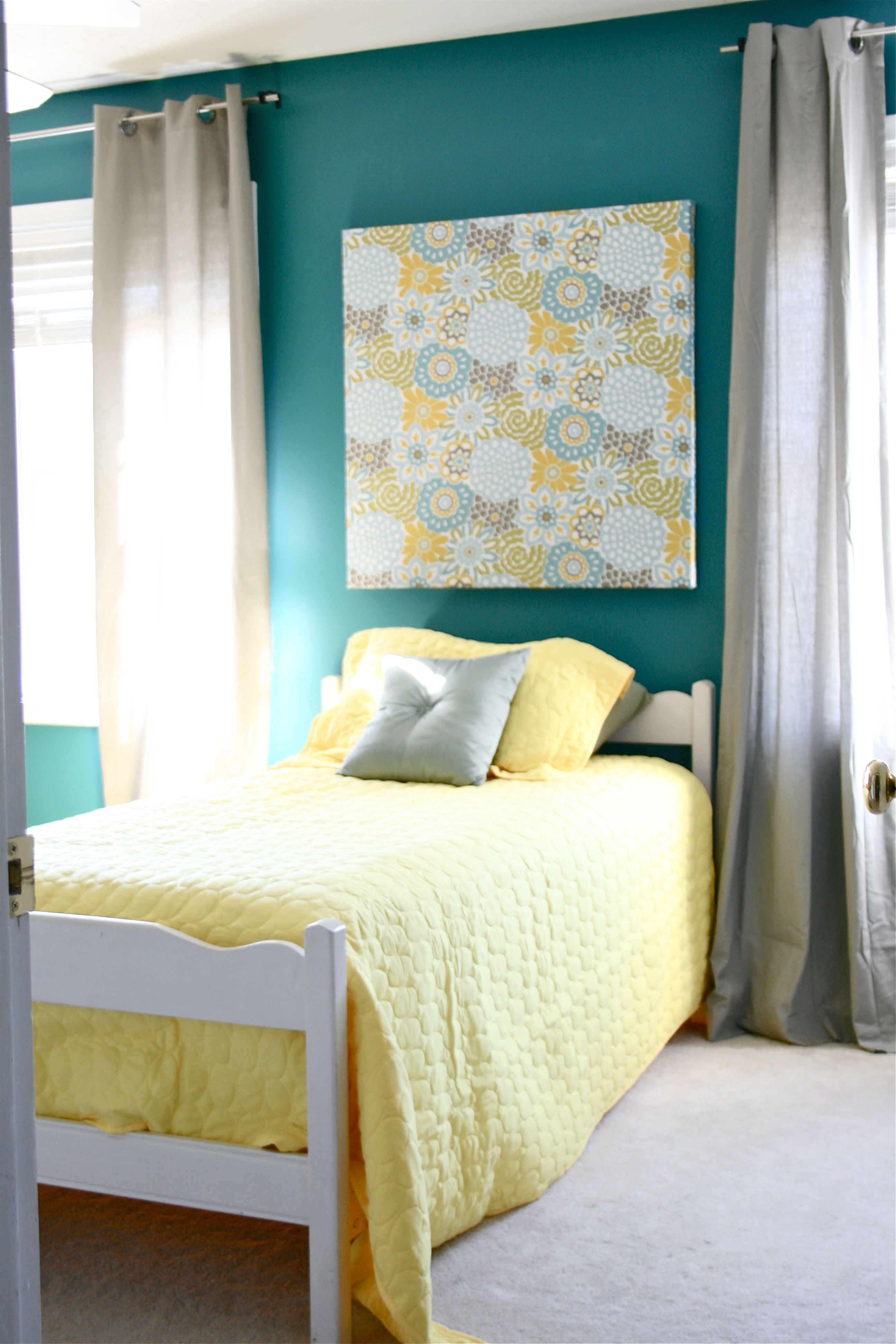 The Psychology of Teal
The meaning of the color teal is intuitive and insightful. Because teal is a 50-50 blend of blue's tranquil stability and green's optimism and healing properties, teal is a balanced color. It inspires restfulness and spiritual balance. The color teal is sophisticated and elegant, but still bold.
People who like the color teal said to be are reliable, independent people. They are creative and are not ones to go along with the crowd. The color promotes clear thinking and communication.
Tibetan monks believe that teal represents the infinity of the sea and sky, while it is the color of truth and faith for Egyptians.
Color Teal vs Green vs Blue and Ultramarine
Green #008000 RGB 0, 128, 0
Teal #008080 RGB 0. 128, 128
Blue #0000FF RGB 0, 0, 255
Ultramarine #3F00FF RGB 63, 0, 255
Is Teal Trendy? Home Decor Uses
Yes, the color teal is somewhat timeless. Teal is one of those colors that is energetic and uplifting, yet calming and peaceful at the same time. The combination of blue and green give the color balance making teal a popular choice throughout the years. Dark teal in a room inspires creativity. It can also create a cozy feel to your room as if you were wrapped in a cocoon of color.
Consider using the color scheme for a study or home office where you need the ideas to flow, but you also can alleviate work stress. Teal is also on our list of the top 7 bathroom paint colors.
Tones of Teal
There are many shades of teal. For example, light teal blue is vibrant and is a perfect match with bright white. The opposite color on the color wheel, coral, looks fabulous with the cool of this teal.
Light Blue Teal (Teal Blue Crayola) #18A7B5
Teal #008080
Teal blue is more blue and cooler than the other teals so far. While some blues may give you the blues, this one is uplifting and youthful. It, like the other teals can help you communicate more clearly and be more creative. This is a pretty shade for a home office or study.
Teal Blue #367588
Steel teal is a cooler version of teal with grey undertones. It is almost a neutral color thanks to the gray. This makes steel teal a popular choice for contemporary designs. The color communicates tranquility and growth. If you want a space that is calm and allows you to recharge, steel teal is a winner.
Steel Teal #5F8A8B
Dark teal green is deep, dark dramatic. This color is good for lifting your mood and giving you mental focus. It calms, yet energizes you at the same time. This color is best used as an accent unless your room gets plenty of natural light.
Teal Green #006D5B
Shades of Teal
Alice Blue #F0F8FF
Light Aquamarine (Sharpie) #EDFEFF
Bubbles #E7FEFF
Pale Turquoise #AFEEEE
Powder Blue #B0E0E6
Light Blue #ADD8E6
Ultra Blue (Blizzard Blue Crayola) #A3E3ED
Pale Robin Egg Blue #96DED1
Light Keppel #8DDCD3
Aquamarine (Crayola Light Teal) #7FFFD4
Aquamarine Blue (Crayola Aquamarine) #71D9E2
Baby Blue #89CFFD
Electric Blue #7DF9FF
Cyan (web color Aqua) #00FFFF
Turquoise Blue #00FFEF
Bright Turquoise #08E8DE
Turquoise #30D5C8
Maya Blue #73C2FB
Capri #00BFFF
Process Cyan #00B7EB
Bright Cerulean (Crayola Cerulean) #02A4D3
Deep Turquoise #00CED1
Robin Egg Blue #00CCCC
Medium Turquoise #48D1CC
Medium Aquamarine #66CDAA
Keppel #3AB09E
Light Sea Green #20B2AA
Light Teal Blue (Crayola Teal Blue) #18A7B5
Water #96ABA5
Cadet Blue #5F9EA0
Viridian #40826D
Pine Green (Crayola) #01796F
Dark Cyan #008B8B
Teal #008080
Water Blue #256D7B
Teal Blue #367588
Deep Aquamarine #40827D
Blue-Green (Crayola) #0D98BA
Bondi Blue #0095B6
Rich Electric Blue #0892D0
Cerulean #007BA7
Steel Blue #4682B4
Steel Teal #5F8A8B
Teal Green #006D5B
Medium Electric Blue #035096
Dark Electric Blue #536878
Midnight Green (Eagle Green) (Dark Teal) #004953
Charleston Green #1A2118