Sherwin-Williams Naval Blue is a deep navy blue color that is bold but not overpowering. Sherwin Williams Naval sw 6244 can be used for a variety of projects that will give your space an instant boost of sophistication. 
SW Naval has an LRV or light reflectance value of 4. The lower the LRV, the less light it reflects. This would make Naval a dark blue, but don't let that keep you from considering this beautiful navy blue. Dark, intense colors create a sense of coziness and drama that other colors can't create. 
Naval SW 6244 LRV 4
Dress Blues SW 9176 LRV 5
Salty Dog SW 9177 LRV 5
In the Navy SW 9178 LRV 4
Charcoal Blue SW 2739 LRV 6
Mineral Gray SW 2740 LRV 9
Anchors Away SW 9179 LRV 3
Highly Reflective White LRV 93
Endless Sea SW 9150 LRV 7
Inky Blue SW 9149 LRV 15
Smoky Azurite SW 9148 LRV 25
Favorite Jeans SW 9147 LRV 35
Faded Flaxflower SW 9146 LRV 44
Sleepy Hollow SW 9145 LRV 57
Moonmist SW 9144 LRV 68
Let's take a closer look at this glamorous yet comfortable statement color.
Sherwin Williams Naval Influences
Art Deco Style
There's no question that Sherwin Williams Naval brings a Great Gatsby feel and Art Deco style to your projects. What is Art Deco? Art Deco, or style moderne, was a movement in the decorative arts and architecture that started in the 1920s and became popular in the U.S. in the 1930s. The style features geometric shapes and lines and rich colors that ooze wealth and sophistication. 
A Nod to Nature 
Sherwin Williams Naval also brings a sense of nature, from the inky and infinite night sky to the to the deepest darkest waters not yet explored, this navy is not your blah business suit blue.
Sherwin Williams brings navy out of the comfort zone with a deep shade that says confidence and timelessness. 
Sherwin Williams Naval Projects
Naval Exterior
The Naval SW 6244 is an interior and exterior paint, so if you want to enhance your home's curb appeal and give it a coastal cottage feel, this could be the paint color for you. Not sure about going navy blue? Paired with white trim, the navy blue is subdued and more of a dark neutral than a blue. 
Sherwin Williams Naval Front Door
For those of you who are not ready or simply can't paint your home's exterior with Naval, adding a Naval front door can make a statement. What statement is that? 
The navy blue is dignified and more of a neutral backdrop than attention-getting red. Next to white trim, a Naval front door screams Americana during the summer months and makes the oranges and yellows of fall décor pop. 
To paint the door, you can apply a coat of gray primer, then two coats of Sherwin Williams Naval in a satin finish in Sherwin Williams Duration Exterior Acrylic Latex.
Navy blue is also an auspicious front door color in Feng Shui if your home faces north. Win!
Sherwin Williams Naval Bedroom
Who doesn't want to sleep under the indigo of a night sky untouched by city lights? Using Sherwin Williams Naval in your bedroom can bring serenity, coziness and overall depth to your sleeping quarters. 
In fact, it's been called the most relaxing shade of blue. If you don't want to have a dark hideaway, you can still use Naval in the bedroom. Pair it with bright white linens and punches of yellow to create an airy cheery space to hang out. Think nautical rather than intense. 
Accent Wall 
Again, if you're not sold on having an entire room of Sherwin Williams Naval, you can always create drama with an accent wall. Think of the calming effect it would have in your home office or in a nursery. Add drama to your next dinner party by painting a dining room wall Naval.
Your home's entryway could become a decompression zone with the addition of a comfy bench, somewhere to kick off your shoes and a wall of Naval blue. 
Adding a wall of Naval gives the room depth and a sense of grounding. 
Sherwin Williams Naval Cabinets
If your kitchen cabinets or bathroom cabinets need a little love, Naval pairs wonderfully with luxe finishes such as marble and metals. But your room will still feel comfortable and relaxing because of this timeless blue. 
Naval pairs well with wood tones, making it a natural fit for kitchen islands and cabinets. Sherman Williams interior water-based alkyd is specially designed for cabinets, meaning it is highly durable and its self-leveling offers a smooth finish.  
Take this home style quiz and find your room decor style!
What Colors Go with SW Naval 6244?
We know white makes a great match for this dreamy paint color, but there are plenty of other color matches for Sherwin Williams Naval. Navy blue is a versatile but serious color. It brings to mind business suits and uniforms. 
But navy blue can be as buttoned up or denim casual as you make it. Here are some ideas for accent colors. 
Metallics with Naval 
As mentioned, metallics bump up the opulence and take your project to next-level luxury. Sherwin Williams recommends its Tarnished Trumpet SW 9026 or a lighter Midday SW 6695 to bring warmth to this bold blue.
In general, yellow and blue are complementary colors and can create high contrast. But with darker, more muted tones, the warm tones can lift up Naval and give it that wow factor. 
Greens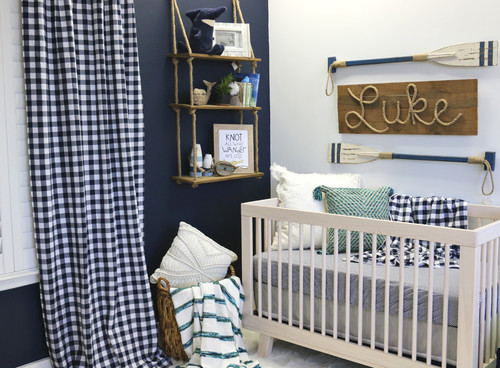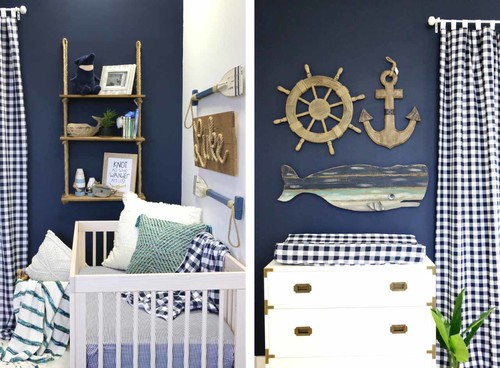 You may opt out of the opulence and want to create a connection with nature. Shades of deep green and paint colors such as Kale Green SW 6460 introduce biophilia, a love for connecting with the earth, for a grounding experience. Frosted Emerald SW 9035 is a fun green paint color to bring up the energy of the dark blue.
Coastal Colors 
Go for a classic cottage by-the-sea look by incorporating these neutrals into the mix. Even if you live thousands of miles from the nearest sand dune, you can create a light beachy feel with these accent colors for Naval.
Pure White
Sea Salt
Angelic
Rock Candy
Aesthetic White
Brights
Chartreuse, magenta and tangerine bring a fun punch to this serious navy blue. Think of kid's rooms, the bathroom, playroom or your front porch. Adding bright potted blooms on either side of a front door would be inviting to your guests. 
Sherwin Williams Naval Color Palette
Want more color palette ideas? Click to go see all of Color Amazing Designs color schemes or go to my Pinterest Color Schemes board to see hundreds of ideas.
Other Popular Navy Blue Paint Colors 
Sherwin Williams Naval may be the 2020 color of the year, but there are other navy paint colors that are worth a look. 
Hale Navy vs Naval
Benjamin Moore Hale Navy is deeply saturated, and a more traditional navy than Naval. It's popular and has set the standard for a classic navy due to its grayer tones. It works well on cabinets and as an accent color. Naval on the other hand is a more intense, modern kind of navy blue. 
What makes Hale Navy so versatile is that it has warm and cool undertones, so it works with everything. Hale Navy is not as mesmerizingly deep as Sherwin Williams Naval. It would be considered the safer option if you are looking for the perfect navy blue paint color. 
Naval vs. Anchors Aweigh 
Here we have SW Anchors Aweigh SW 9179 versus Naval. They are extremely similar. The Anchors Aweigh paint color has an LRV of 3, which means its darker than Naval. Anchors Aweigh pairs with Creamy SW 7012 and the greenish Quietude 6212. Naval, on the other hand is paired with warm, deep sandy browns and an ice-cold gray of Icicle SW 6238 and Roycroft Suede SW 2842.
Naval vs. Salty Dog
Salty Dog SW 9177 a traditional navy blue with greenish undertones. The color has a whisper of sea green. It also has an LRV of 5 so Salty Dog is not as deep a navy as Naval. 
Tips for Painting with Navy Blue (or Any Dark Paint)
Now that you're all revved up about painting something Naval here are a few tips for painting with such a bold color. 
Use a Top-Quality Paint
This should go without saying, since we are talking about Sherwin Williams Naval. When it comes to painting, you don't want to save a few bucks and then regret or have to repaint. Take the time to figure out your budget and get the best paint you can afford. Sherwin Williams Emerald Interior Matte is listed on the Sherwin Williams website for just over $50 a gallon. But remember you are investing in the look and feel of your home for years to come.
Sherwin Williams Emerald® is a paint and primer in one. It also prevents stains from penetrating and resists water. It goes on smooth, but some customers have complained about an odor. 
Prep, Prep, Prep
Did we say prep? Painting with a dark color such as Sherwin Williams Naval is not easily undone. The darker paint can bring out every ding in your wall or cabinets. Make sure you have filled any holes and sanded the surface and cleaned the surface thoroughly. Use a good painter's tape to mask off baseboards, corners and remove switch plates, hardware etc. Test the painters' tape before using it to tape off a large area. 
Prime and Paint
Prime walls with a deeply tinted primer with your wall color. Use an angled brush to cut in around the perimeter of the walls, at the corners and along the ceilings. You want to work fast, so the paint doesn't dry. If you are painting more than one wall, cut in one wall at a time.
Use a roller with the correct nap for your wall to paint in a large W pattern.
Use more than one coat of paint, even with a primer. 
So, if you love the Sherwin Williams Naval, don't be afraid to try it. This rich navy blue color and Sherwin Williams Color of the Year 2020 will not disappoint.