Red, is often regarded as the color of love, passion and energy. It is a commanding color that sends out strong messages about who you are to others around you. We love it's versatility as an everyday color and one that anchors a few of the most celebrated holidays throughout the year.
It's a hue that can be used in many different ways, with many different meanings. If you're looking for the perfect pop of color to add some punch to your home decor this year, then red may be just what you've been waiting for!
We Have the Colors for You
We've got the perfect solution to your color needs. ColorAmazing is an online store that specializes in providing high-quality, affordable home decor items.
Our products are available in 70+ colors and we offer free shipping on all orders over $35
You can choose from our wide selection of pillow covers, shower curtains or table runners and get them delivered right to your door.
And if you don't like what you ordered, no problem! We offer hassle-free returns so there's no risk involved with shopping at ColorAmazing.
Shop today and save big on our best deals!
How to Use the Color Red in Your Home Decor
Red is a great color to use in any room of the house. It can be used as an accent or for a focal point and it works with many different colors, making it versatile enough to work well pretty much anywhere!
Add Just a Pop of Color with Red Throw Pillow Covers
At Color Amazing, we work with a color palette that includes a true red hue. Add a pop of color to your living room decor with these red pillows! They would look great on the couch or even in front of the fireplace.!
If you're looking for more ways to incorporate this hot hue into your home, consider using it as an accent wall in one small area like the kitchen nook.
Meaning of the Color Red
Red is a bold, energizing color. It's the perfect shade to make you feel fired up and ready for action!
The meanings of  red can vary depending on where they are used in your home or office space. Red often has different meanings across cultures as well. For example in China, red is associated with good luck; while in France it symbolizes passion and love
Red is the Color of Many Holidays
When it comes to holiday decorating, red is the darling of the bunch. From Christmas to the Fourth of July, red dominates the holiday colors. We love to use red holiday pillow covers for Valentine's Day, in our patriotic pillow cover collection and of course during the entire holiday Christmas season.
Buy these pillows at the ColorAmazing Etsy Shop
Add this color sparingly to your home and it will have an impact! Adding  throw pillow covers in red throughout your living space can help create a feeling of warmth and comfort. It's also associated with romance so why not add some more love into our homes?
What Colors Go with Red?
Red is the most powerful color in the spectrum. When used as a home accent, it can make a bold statement while when blended with other colors or shades of red, it becomes more subtle and sophisticated.
The combinations are endless! But to help you out we have put together some common colors that go with red.
Yellow and Red
Decorating your home with a yellow and red color combination creates warmth and stimulates cheerfulness. Yellow and red are the colors of happiness. While you may be thinking your home would look like a McDonalds sign, yellow and red have a fun feel to them.
This is a good choice for the spring and summer months, when you want to bring some fresh energy into your home. If you need to boost the energy and optimism in your home office, punches of red and yellow can also punch up the productivity.
Red gingham pillow covers with a solid yellow or any red print pillow cover with a solid color is a classic pattern combination. 
Buy these pillows at the ColorAmazing Etsy Shop
Green and Red
When they are used together, green and red pillow covers create energy! Can you feel the festive vibes? These two complementary colors work well to make a statement in any space.
Red and white outdoor pillow covers with apple green plaid make an unexpected color combination on a traditional southern style back porch. Red striped pillow covers, a red lumbar pilllow, and emerad green pairs with the taupe florals and rattan rocking chairs. 
Purple and Red
These two often go hand-in-hand because purple is considered the color of royalty while red signifies strength or passionate love. This color combination is a great choice for the bedroom.
Blue and Red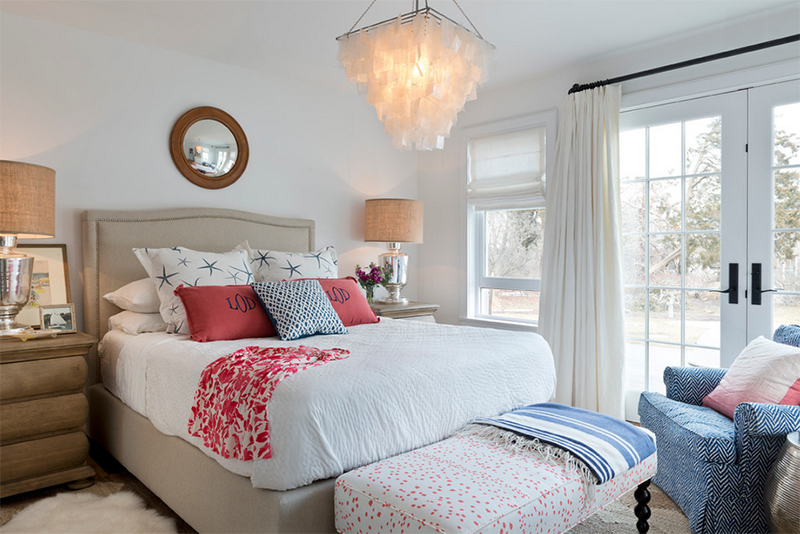 It's not just for Fourth of July. This is a great color combination for bedrooms or living rooms. Blue and red are calming, cool colors that create an atmosphere of tranquility and peace. You can see it creates a fresh but bold feel when used sparingly with whites and neutral.
Red and navy pillow covers create a classic look for Fourth of July.  Navy blue and red can be displayed all summer in a nautical themed room or porch  Think of adding rope lanterns, sailboats on Cape Cod, or a red nautical pillow cover with a crab silhouette.  
Brown and Red
A brown and red color combination is all about earthy sophistication. You can use both colors to create a rustic, country look for any space in your home that needs it!
Dark brown wood with red ticking pillow covers or red floral pillow covers create a warm farmhouse look, like a cabin in the Smokey Mountains  
Red farmhouse pillow covers are any easy way to add  farmhouse style to a city apartment.
It can also be used to create a modern look such as the room above. Dark red pillow covers or brick red pillow covers create a cozy masculine feel to this dining room. 


Red throw pillow covers are an easy way to make a statement in your home all year.