Does your bathroom have a case of the blahs? A coat of paint can give your powder some pizazz. Lucky for you, we've got 7 of the best paint colors for your bathroom.
Chances are the bathroom is one of the smallest rooms in your home, but it is also one of the most used. The color of the walls and the shower curtain make the greatest impact on how the room looks.
Painting the bathroom walls and replacing the tired shower curtain can get the space looking on-point with the latest home decor trends. Changing the paint color is relatively inexpensive, even if you hire someone to do it.
7 Best Paint Colors For Your Bathroom
Sandy
 What could be better than being reminded of a warm, sandy beach every time you have to … Sandy is a beautiful color to add to any bathroom. It will leave you feeling light and airy when you walk in, reminding you of the sandy shores of the nearest beach that you long to be one.
Sandy is a neutral that pretty much goes with everything.
Sandy Paint Colors
Sandy Beaches 946 by Benjamin Moore
Sandbar SW 7547 by Sherwin-Williams
Sand Dollar SW 6099 by Sherwin-Williams
Cape Sands by Valspar 2004-6C
Light Blue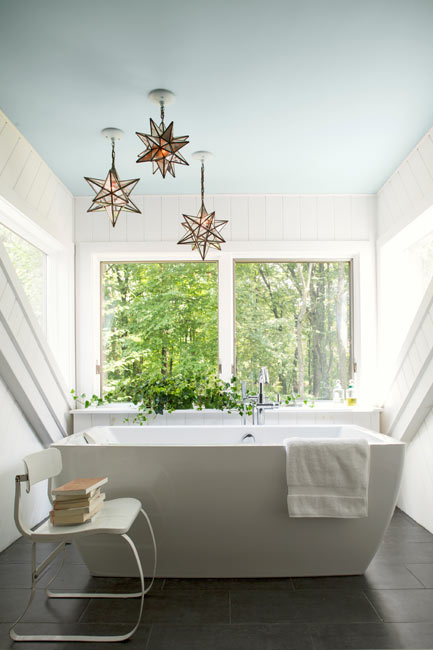 The paleness of the summer sky instantly makes this usually-small room feel larger. The mind associates light blue with the expanse of the heavens. In this example, the ceiling is painted and bright white create an airy space. Light blue also symbolizes freshness, clean and is associated with the Febreze brand. who doesn't want a fresh breath of air? Perfect for your little loo.
You are going to love the relaxing atmosphere that is created when you add a touch of light blue paint to the bathroom. Your guests are going to love the outdoor vibe and the spa-like feel of the room.
Light Blue Paint Colors
Aviary Blue SW 6778 by Sherwin-Williams
Carefree SW 6777 by Sherwin-Williams
Crystalline 5002-9A Valspar
Iceberg 2122-50
Aqua
 Do you desperately need a day at the spa? Aqua makes every day spa day.
This is a beautiful color, if you are looking for a water tone, this is one that will make you and your visitors feel like they have left home and have gone to an island retreat. Caribbean Mist by Benjamin Moore captures the light and tropical feel without being garish.
Adding this splash of color to the bathroom will go great with a beach or tropical. You are going to love the calm and cool of aqua.
Aqua Paint Colors
Sea Air Valspar 5006 9A
Crystal Clear SW 6756 Sherwin-Williams
Caribbean Breeze 652 Benjamin Moore
Mint Whisper 5008-7A Valspar
Teal
For those of you who love rich colors, teal like Weekend from Magnolia Home is a level up from the soft colors we have listed so far. This one of the best paint colors for your bathroom if you love a punch of color to break up the white tiles and fixtures. You are going to love this color in your bathroom. It is going to leave you feeling relaxed. This paint color is bold, beautiful and ranks up there with sleeping in on a Saturday.
Intense Teal SW 6943 Sherwin Williams
Really Teal SW 6489 Sherwin Williams
Weekend by Magnolia Home
Secluded Garden 5002-4A Valspar
Gray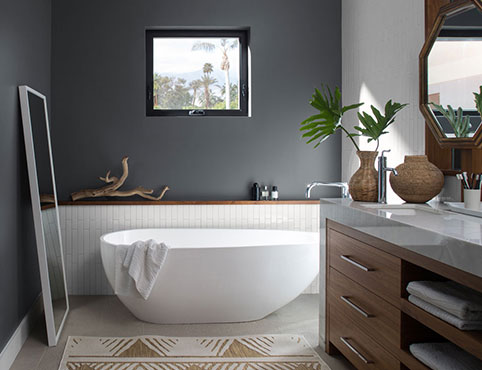 Gray balances all of the energy in the room, giving the entire area a more relaxing. You can go with a deep slate gray like this one from Benjamin Moore. Repose Gray by Sherwin Williams is also on our list of the best paint colors for your bathroom because it is a true gray with no undertones.
Repose Gray SW 7015 Sherwin Williams
Agreeable Gray SW 7029 Sherwin Williams
Twinkle SW 7135 Sherwin Williams
Grey Brook 50011B
Pink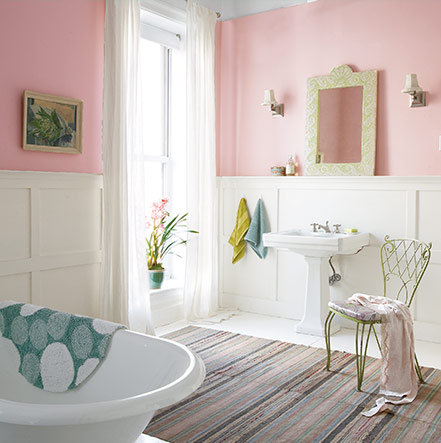 Rosy Outlook SW 6316 Sherwin Williams
Rosily SW 6574 Sherwin Williams
Bombay Pink Valspar
Verbena SW6541 Sherwin Williams
Rosy Outlook SW 6316 by Sherwin-Williams is a dreamy pink that will lift your mood. Even those who are not fans of pink can see this is a beautiful paint color that wraps the room in a warm hug. This paint shade is soothing, elegant and classy.
Soft or bold, pink always makes a statement. It is also a modern, yet subtle way to tie a room together. Pink isn't just for nurseries or children's rooms. This pink has warm tones of rose gold.
Seafoam Green
Sea Foam
Seafoam is the greener softer version of aqua. It's reminiscent of mint green but with blue and gray undertones. Think sea glass. It's soothing, fresh and nostalgic. The color first became popular in fashion in the 1950s and had a resurgence in home decor thanks in part to Martha Stewart.
Seafoam Paint Colors
Sea Foam 2123-60 by Benjamin Moore
Seafoam Green 2039-60 by Benjamin Moore
Sea Salt SW 6204 by Sherwin-Williams
Aquacade SW 7130 Sherwin-Williams