Benjamin Moore Calm OC 22 is a warm gray with subtle undertones. This paint color is one of the most popular neutral paints for your home. In this color report we'll dig into coordinating colors, the best trim colors for Calm and the paint color's undertones, LRV and more.
What color is Benjamin Moore Calm?
Calm is an off-white paint color that is a subtle, warm gray, essentially it's a gray with a touch of lavender that makes Calm a warm paint color.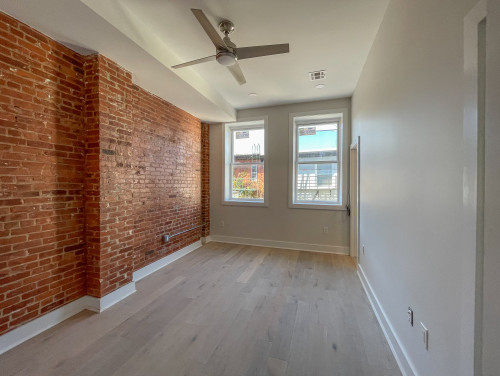 What's the LRV of Benjamin Moore Calm?
Calm has an LRV of almost 76, or 75.83, which means it will lighten and brighten a room, but add subtle color. The paint color is part of Benjamin Moore's Off White Collection.
This number ranges between 1 and 100. LRV is measured on a scale that ranges from zero (absolute black, absorbing all light and heat) to 100 percent (pure white, reflecting all light). Building and design professionals (everyone from architects and engineers to interior designers and color consultants) use these measurements as guidelines to predict how light or dark a color will appear.
The values are also used by lighting designers to calculate the number and type of light fixtures needed to provide a certain amount of light for interior spaces.
For contrast, Edgecomb Gray by Benjamin Moore has an LRV of 63.88.
What are Calm Undertones?
Calm has a noticeable purple or lavender undertone. You want to definitely sample this paint because the lighting in your room will bring out the purple and gray. For example in a north-facing room or afternoon eastern light, the paint color on your walls would look more gray. But in a south-facing or western afternoon light, Calm undertones are more pronounced.
Get a sample of Calm OC 22
The no mess way to get a paint sample is through Samplize. They ship quickly and offer colors from popular paint brands including Benjamin Moore and Sherwin Williams.
What are the Best Trim Colors for Calm?
The best trim colors for Calm OC22 are Chantilly Lace and Oxford White. These colors provide a nice contrast with the subtle gray of Calm. Chantilly Lace is one of the most popular colors that Benjamin Moore offers. It is clean and classic like a crisp white table cloth.
Calm vs Classic Gray
Calm is a cool gray with a slight blue undertone. It is slightly lighter than Classic Gray, and has a warmer tone. Both colors have warm tones, but Calm is the cooler of them. Thanks to pronounced greiges, Classic Gray reads warm next to the cooler purple undertones of Calm.
There are many different shades of gray, but two of the most popular are Benjamin Moore Calm and Classic Gray. Both colors have their own unique qualities that make them stand out. Benjamin Moore Calm is a light gray with blue undertones. It's perfect for creating a serene and calming atmosphere in any space. Classic Gray, on the other hand, is a dark gray with green undertones. It's perfect for creating an elegant and sophisticated look.
Calm vs Pale Oak OC 20
Calm vs. Balboa Mist
Benjamin Moore's Calm is a light blue-grey color, while Balboa Mist is a light beige-grey. Both colors are perfect for creating a calming and serene atmosphere in your home.
Benjamin Moore's Calm is a light, airy blue that is perfect for any room in your house. It has just enough color to make a statement, but it isn't too overwhelming. Balboa Mist is a similar color, but it has more gray in it. This makes it perfect for rooms that need a little bit of color but don't want to be too bold.
There are many different shades of white, and choosing the right one can be tricky. Benjamin Moore's Calm is a beautiful light blue-gray that can work well in many different spaces. However, it can be easy to confuse it with Balboa Mist, which is a similar color. If you're unsure which one to choose, Calm may be the better option as it has a slightly warmer tone.
Benjamin Moore Calm in the Kitchen
Calm OC 22 looks good on kitchen cabinets and on walls. Its barely there color creates a sense of , well calm, in the room. Kitchens can be busy places with lots of noise and clutter. Contrasting the subtle gray of this paint color with darker accents gives the room a clean, but cozy feel.
Here's another example of how Calm looks on walls.
In this example you can almost see with pinkish purple undertones. But it works with the warm wood floors and the other wood accents to create an inviting space that is cozy without too much fuss.
Coordinating Colors for Calm
This paint color is so versatile, it can really be a showcase to any accent colors. From the moody and dramatic tones to the light bright shades. Shop the Color Amazing Etsy store for instantly downloadable whole home paint palettes. They have ideas on how to create a cohesive look to your home. There are paint color specific palettes and home style specific palettes for sale. Check out the OC 22 Calm palette.
Simply White
Pure White
Chantilly Lace
Hale Navy
Carolina Gull
Beach Glass
These are just a few options. This color is versatile and can be a great showcase for pops of color in your home. See the Calm OC 22 paint palette in the Color Amazing Etsy shop.
Lighting and Paint Color
North-facing rooms – North-facing rooms tend to look cooler and blueish in tone because the light itself is cool and not as intense. Lighter paint colors that are on the lighter side will appear muted. Dark colors will be more vibrant.
 South-facing rooms– South-facing rooms, on the other hand, have consistent warm light throughout the day. The light intensifies colors, so darker colors appear brighter and softer hues gleam. 
West-facing rooms-  Light intensity and tone change throughout the day. Light is cooler in the morning and warmer or brighter in the evening.  
East-facing rooms–  Light is warmer or brighter in the mornings and cooler in the afternoon/evenings.  
What are the Most Popular Paint Colors for Benjamin Moore?
These are the top 10 most popular colors from Benjamin Moore. As you can see Calm is one of the most popular colors, despite its unconventional undertones.
White Dove OC 17
Chantilly Lace OC 65
Cloud White OC 40

White Heron OC 57

Swiss Coffee OC 45

Classic Gray OC 23

Calm OC 22

Pale Oak OC 20

Gray Owl OC 52